When it comes to sandblasting, a lot can constitute the word "sand." Blast media can vary greatly from media to media, with different hardnesses, surface profiles, blasting speed, and more. Between the sheer variety of blasting media and abrasives on offer, and the sheer number of uses for each individual abrasive, you'd be forgiven for being a bit confused by it all. But we're here to help — we've put together a guide on each of our abrasives here at BlastWorks, so you can buy the best media for your needs, without having to sift through countless product pages first.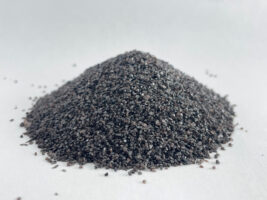 Soft Media
For more delicate surfaces that damage easily with most abrasives, a soft media will get the job done without pitting or otherwise damaging the surface. Often used for cleaning, stripping, and paint and oil removal, soft media is your go-to choice when other abrasives are too heavy-handed for the task at hand.
Walnut Shell
The softest of our selection here at Blastworks, walnut shell blast media is primarily used for cleaning softer surfaces. Varying in size depending on the application it's being used for, walnut shell abrasive is tough, yet soft enough to be safely used on almost all metals, softer stones, plastic, and fiberglass. Its natural density makes it reusable, and its organic nature means it's nontoxic and non-silicosis causing.
Read more on walnut shell abrasive here.
Corn Cob
A great, more versatile option for surface cleaning, corn cob abrasive is one of the industry's most widely used. From removing paint, to blasting off debris, to de-oxidizing surfaces, corn cob is a great all-around media for use on your more delicate surfaces. It's a popular choice for use on wood, aluminum and fiberglass, and, being made of corn cobs, is highly economical in nature. In addition, it's also non-toxic and requires minimal masking for safe use.
Read more on corn cob blast media here.
Moderately-Hard Media
For heavier-duty cleaning and surface finishing, you may consider one of our abrasives with a middle-of-the-road level of hardness. Ranging from around 5 to 6.5 on the Mohs scale, these abrasives are able to pack more power than our softer abrasives, while remaining soft enough to not cause pitting when used on the proper substrate.
Glass Bead
In addition to its other myriad uses, glass bead abrasive is great for cleaning and peening metal surfaces. Glass bead's structure means it's able to clean, finish, peen and deburr in one step, saving considerable time. At the same time, its softness relative to its preferred surfaces means it's strong enough to clean efficiently, but not strong enough to pit and change tolerances. Glass bead blast media can be reused several times, and has been rendered chemically inert.
Read more on glass bead media here.
Crushed Glass
While being only moderately hard, crushed glass abrasive is considered much more aggressive than media of similar hardness on account of its rough, angular shape. It's capable of removing more stubborn paints and epoxies despite its lower Mohs rating.
Read more on crushed glass blast media here.
Garnet
On pitted surfaces, few abrasives clean better than garnet. Garnet blast media cleans deep into cavities and pores, wiping out impurities on many surfaces better than any other blast media in our lineup.
Read more on garnet abrasive here.
Starblast™️
Made from staurolite mined in the US, Starblast is the industry's preferred abrasive for cleaning and preparing new metal surfaces, namely steel. It is rounded post-mining into a sub-angular shape and thoroughly cleansed to remove other minerals before shipping.
Hard Media
Our hardest media is suited for your toughest jobs. From aggressive cleaning and finishing to metal preparation, these abrasives are very tough and pack a punch — a punch that certain jobs all but require.
Brown Aluminum Oxide
Well suited for polishing and grinding, brown aluminum oxide media is formed by high-quality bauxites to make a compound, high-strength material. Beyond being used as a blast media, its angular profile and hardness make it applicable for uses like sandpaper and lapping.
Learn more about brown aluminum oxide here.
White Aluminum Oxide
Similar to its brown counterpart, white aluminum oxide blast media is very hard and strong. However, the white variety has high friability and a higher melting point than most abrasives, as well as a larger crystal size. These unique properties open up white aluminum oxide to more use cases and possibilities than most other media. Going beyond being used as a blasting abrasive, there are several other ways you can apply white aluminum oxide in your workshop.
You can read about those use cases, and more about white aluminum oxide, here.
Silicon Carbide
The hardest, strongest, toughest abrasive on offer here at Blastworks. Ranking 9.5 on the Mohs scale, silicon carbide blast media is suited for the toughest jobs you can throw at it, few other abrasives — few other materials, period — can match silicon carbide's strength.